Ms. Cooley
Kindergarten – SBE
Welcome to my online classroom.
To all Kindergarten Parents/Guardians:
We are mailing your child's report card along with a letter. The letter contains important information, ideas for skills practice, and educational website resouces you can use while school is closed.
We pray that everyone is safe and well. Enjoy this Family Time together and we hope to see you soon!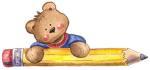 **I've added some links you may want to check out on the Educational Website Page.**